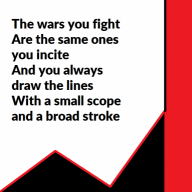 Local time

Today, 15:39
Joined

Jan 24, 2013
Messages

7,003
Location
Setup:
13 Players:
10 Town
3 Mafia
Town:
Cop
Doctor
Vanilla Townie x8
Mafia:
Roleblocker
Good X2
You will get a QT if you are in the game. It will give you one of these options:
Order of Night Actions:
Cop
NK
Doc
RB
Mechanics:
I will be using
https://www.random.org/lists/
to generat the roles and I will not be deviating from this at all.
Day cycle is 4 days; 72 hour day phase 24 hour night phase.
Game starts at Day 1.
Mafia share Night Chat.
Lynch is decided by majority (>50% of Voters).
Day Ends when a majority is chosen. No votes will count after a majority is chosen, though it will remain Twilight until I make the EOD post. Do not post when I write do not post in big red and bold letters. You may post when I write you may post in big green and bold lettering.
Player's Role and Alignment will be given upon death.
You will receive your role in your QuickTopic - your QT will be sent to you before the game starts. You can use your QT for notes or to ask me questions about the game.
Votes must be
bold
and
Red
for votes to count. Additionally you may Unvote as well but it must be
bold
and
Red
such as
Unvote
. Do not use
Red
Unless you use it to vote.
Cop gets a random free peak on a VT Night 0.
Mafia may talk in the Mafia chat until everyone has confirmed on Night 0.
Claiming is allowed.
Rules:
NO OUTSIDE COMMUNICATION ABOUT THE GAME (Ex. skype, pms, other threads, phones calls and the like.)
NO QUOTING ANYTHING FROM OUTSIDE THE GAME
NO FAKE QUOTING
NO EDITING OR DELETING POSTS
NO EXCESSIVE PERSONAL ATTACKS (I will be the one to decide that)
NO POSTING ANY LANGUAGE BUT ENGLISH
LIMIT FLUFF POSTING TO A BARE MINIMUM (I will be the one to decide that)
YOU MUST POST AT LEAST 3 CONTENT RELATED POSTS EACH 24 HOUR PERIOD
YOU ARE TO PLAY TO YOUR WIN CONDITION. IF I THINK YOU ARE NOT AND I WARN YOU AND YOU DO IT ANYWAYS, YOU WILL NOT BE PLAYING IN ANY MORE OF MY GAMES
HAVE FUN!!!
Copy then paste this list and put your name somewhere.
Sign ups:
1.
2.
3.
4.
5.
6.
7.
8.
9.
10.
11.
12.
13.
Replacements:
1.
2.
3.
Ect.
Spectators/Dead Thread:
1.
2.
3.
Ect.
(copy the last list and put your name wherever you want (as long as someone hasn't taken that slot). This way I don't have to worry about running out of time to edit in your name on the list and players can see how many slots are left by looking at the last list given.)
I will take the first 13 people who sign up. Replacements are indeed welcomed and encouraged.
As long as the dire sin is not an overly egregious one, I will be replacing players rather than Modkilling them.
Game will begin Once I am out of one of the games I am currently in and the signups are full. Game will begin at a time where I can be there for EOD (this should be a hint to you to use as much time as possible).
Please refer to
this guide and Wiki
for all your questions on how to play this game. I can also answer questions you have in the QT I provided to you.