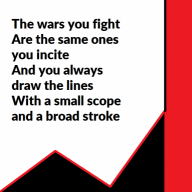 Local time

Today, 17:28
Joined

Jan 24, 2013
Messages

7,038
Location
I have recently found a pattern in my own behavior.

What happens is that someone (usually someone and not something) will do something to piss me off. I will stew and be angry and it will come out in ugly ways. As such I observe that it comes out in ugly ways and I don't like that so I want to change that. So then the next step would be taking a moment to myself to talk myself through the emotion when Bob's Bogus Blues tells me I should kill myself and I am much better able to deal with the situation if something similar has happened in recent memory. For those of you who have a mind like a steel trap, this may not apply, but I find the patterns of behavior and my aptitude to cope with unpleasant emotions is an interesting thing to look at.

Ofc there is a ton that just happens in the mind that is hard to identify and examine during this learning process where I had previously gotten pissed and now am handling a similar situation much better. I believe the trigger for dealing with it better is due to a coping mechanism that is not a "good" way to deal with it. In essence, what happens is that at some point I get pushed to the point where I do something as an overreaction to the triggering moment. For some unexplained reason, this seems to "free me" from the burden I had previously held onto in my psyche. It is like a release where I will overcompensate and then be satisfied with my disheveled way of dealing with it. It is a thing of mystery for me to analyze why this happens. Eventually, this kind of mistake builds up and I repeat the process all over.

If anyone knows in more detail why this happens, I would like to know.
Last edited: