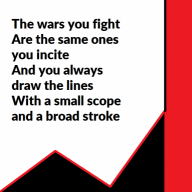 Local time

Today, 15:13
Joined

Jan 24, 2013
Messages

7,048
Location
I will start with something that happened today.

I, as an INTP, am very prone to misplacing things with my absent mindedness. I lose my keys somewhat frequently. I have stretches where I always know where they are for weeks, sometimes months tho. I had misplaced the keys to my Van some weeks ago and I couldn't find them. Well, its not actually my Van, it's my fathers. It's a rundown beater with the passenger window stuck about an inch below it being all the way up and it's cold af where I live in the winter (it's currently 2 degrees fahrenheit outside). I lost my keys. We have 5 vehicles between 4 people in the house (mom, dad, brother, me). My brother has his own car that I could only use if there was absolutely no other choice. We have a relatively new accord and a 2004(?) buick that is is great condition and another ford van that is a lot nicer than the one I drive on a regular basis. I don't even care that much that I am driving this junker; I rarely need to drive that far and if I do the heater works fine. I lost my keys about a week and a half to two weeks ago. My father pressured me to find my keys and I wasn't really motivated to find them (which you will find out later why this is). My father wanted to get rid of my car by the new year so he was pressuring me pretty hard to find them (typically with guilt trip like maneuvers). I had looked for my keys and searched every place I thought they could conceivably be more times than I care to count. Today, My father says "you have to find those keys today". He was going to junk the junker and then I would be able to upgrade to the new (to me) van (that is prolly a 2002 that is in great shape). I was really not looking forward to looking for these keys, because I already knew what was going to happen - the same fucking thing that happens every damn time. We set a deadline of looking for the keys at 6PM. I hadn't slept at all last night so the last thing I want to do is look for something I have no idea if I am going to find or not. Now you might be thinking "this loser doesn't even want to look for his keys? wtf is wrong with him?" Well, here's the thing. This type of thing happens ALL THE TIME when I "lose" something. What happens is that just before I have to put a whole ton of effort into finding whatever it is that I need to find, my father miraculously finds them in the most obvious place ever. This time it was the ignition of the van the keys belonged to. I could have sworn I check the ignition at some point (not that I am at all in the habit of leaving them there).

I just don't know if I actually left them in the ignition or if my father knew where they were all along and then springs this "I found them, isn't that amazing?" before I actually have to do any work to find them. My father and I were suppose to look for the keys together, but a holiday miracle happened and it turns out I don't actually need to put effort into looking for them. Oh joy.

This happens all the time, like I said. I can never prove that my father actually knows where whatever it is I am looking for knows where they are, because like I covered earlier, I am really really absent minded. How on earth can I know for sure that I checked the ignition or not? That is such a minor detail that I could never remember doing that after how much time has passed before I just give up looking for whatever it is.

I remember one time I had a friend over and I bought a 2 liter of soda. I could not find it anywhere. checked the fridge, thoroughly. I even said to them "see look, the soda is nowhere to be found in the fridge, now watch my soda magically appear there." I told my dad I couldn't find my soda and I prolly asked him if he had seen it (though tbh, asking him is pointless, I've been down that road so many times). So then about an hour later my father says "I found you soda" I say (like always) where was it? "In the fridge on the lower rack under the whatever" -.- I then later told my friend "see, I told you! We looked there and it wasn't there. How did it get there?!?!" I always have some doubt that I didn't actually check well enough or something though. *sigh* this is suck a minor insignificant thing and it bugs me so fucking much.

What are your thoughts on this? I don't expect anything that I haven't really thought of or any kind of good advice how to deal with my father with this, but asking anyways.